Mechanisms for human genomic rearrangements
Received: 9 June 2008
Accepted: 3 November 2008
Published: 3 November 2008
Abstract
Genomic rearrangements describe gross DNA changes of the size ranging from a couple of hundred base pairs, the size of an average exon, to megabases (Mb). When greater than 3 to 5 Mb, such changes are usually visible microscopically by chromosome studies. Human diseases that result from genomic rearrangements have been called genomic disorders. Three major mechanisms have been proposed for genomic rearrangements in the human genome. Non-allelic homologous recombination (NAHR) is mostly mediated by low-copy repeats (LCRs) with recombination hotspots, gene conversion and apparent minimal efficient processing segments. NAHR accounts for most of the recurrent rearrangements: those that share a common size, show clustering of breakpoints, and recur in multiple individuals. Non-recurrent rearrangements are of different sizes in each patient, but may share a smallest region of overlap whose change in copy number may result in shared clinical features among different patients. LCRs do not mediate, but may stimulate non-recurrent events. Some rare NAHRs can also be mediated by highly homologous repetitive sequences (for example, Alu, LINE); these NAHRs account for some of the non-recurrent rearrangements. Other non-recurrent rearrangements can be explained by non-homologous end-joining (NHEJ) and the Fork Stalling and Template Switching (FoSTeS) models. These mechanisms occur both in germ cells, where the rearrangements can be associated with genomic disorders, and in somatic cells in which such genomic rearrangements can cause disorders such as cancer. NAHR, NHEJ and FoSTeS probably account for the majority of genomic rearrangements in our genome and the frequency distribution of the three at a given locus may partially reflect the genomic architecture in proximity to that locus. We provide a review of the current understanding of these three models.
Keywords
Spinal Muscular AtrophyBacterial Artificial Chromosome CloneGenomic RearrangementReplication ForkGenomic Disorder
Introduction
Genomic rearrangements describe mutational changes in the genome such as duplication, deletion, insertion, inversion, and translocation that are different from the traditional Watson-Crick base pair alterations [1]. Genomic rearrangements can represent polymorphisms that are neutral in function, or they can also convey phenotypes via diverse mechanisms, including changing the copy number (that is, copy number variation or CNV) of dosage-sensitive genes, disrupting genes, creating fusion genes or other mechanisms (reviewed in [1]). The pathological conditions caused by genomic rearrangements are collectively defined as genomic disorders [1–3].
Typically, the term 'genomic rearrangements' is only used to describe gross DNA changes ranging from thousands to sometimes millions of base pairs that can cover clusters of different genes [
1
]. Genomic rearrangements of this size have been considered to be clearly distinct from the small-scale gene mutations (for example, point mutations, indels) regarding not only the size of the rearranged DNA but also the underlying mechanisms for both the formation of the rearrangements and the conveying of phenotypes (that is, mechanisms upstream and downstream of the rearrangements). Monogenic point mutations usually reflect errors of DNA replication and/or repair [
1
,
2
], whereas the gross genomic rearrangements are often caused by other mechanisms mediated or stimulated by genomic structural features (that is, genomic architecture) [
1
]. Disease-causing genomic rearrangements can be recurrent, with a common size and fixed breakpoints (that is, breakpoints cluster); or non-recurrent with different sizes and distinct breakpoints for each event. The non-recurrent rearrangements share a common genomic region-of-overlap, the smallest region of overlap (SRO), that encompasses the locus associated with the conveyed genomic disorder (Figure
1
).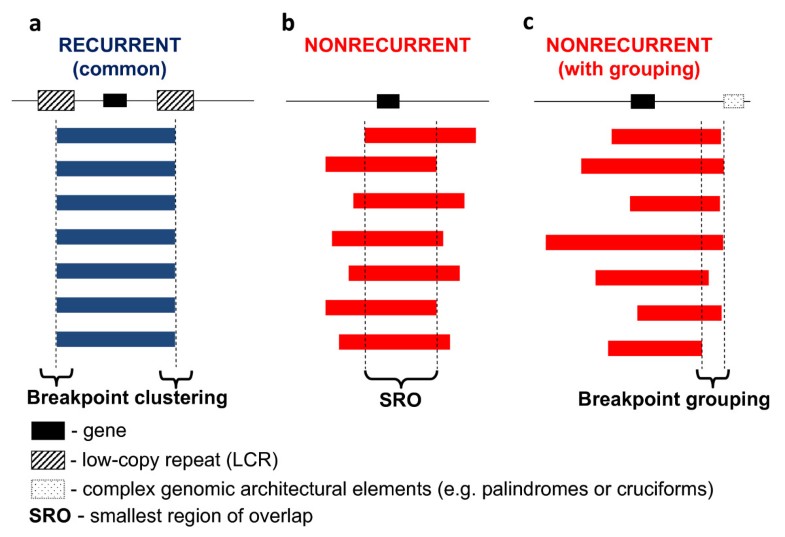 Three major mechanisms have been proposed for genomic rearrangements in the human genome: non-allelic homologous recombination (NAHR), non-homologous end-joining (NHEJ) and the Fork Stalling and Template Switching (FoSTeS) models.
Recurrent genomic rearrangements are caused by NAHR
Some simple non-recurrent rearrangements can occur via NHEJ
NHEJ is one of the two major mechanisms used by eukaryotic cells to repair DSB and has been described in organisms from bacteria to mammals [66–68]. NHEJ is routinely utilized by human cells to repair both 'physiological' DSBs, such as in V(D)J recombinations, and 'pathological' DSBs, such as those caused by ionizing radiation or reactive oxygen species. Inherited defects in NHEJ account for about 15% of human severe combined immunodeficiency (SCID) [69]. NHEJ is also currently considered to be the major mechanism rejoining translocated chromosomes in cancer [70].
NHEJ proceeds in four steps (Figure
3a
): detection of DSB; molecular bridging of both broken DNA ends; modification of the ends to make them compatible and ligatable; and the final ligation step [
68
]. This process determines the two important characteristics of NHEJ: first, neither LCRs nor MEPS are obligatorily required for NHEJ; and second, NHEJ leaves an 'information scar' [
71
] at the rejoining site as the pre-rejoining editing of the ends includes cleavage or addition of several nucleotides from or to the ends [
71
].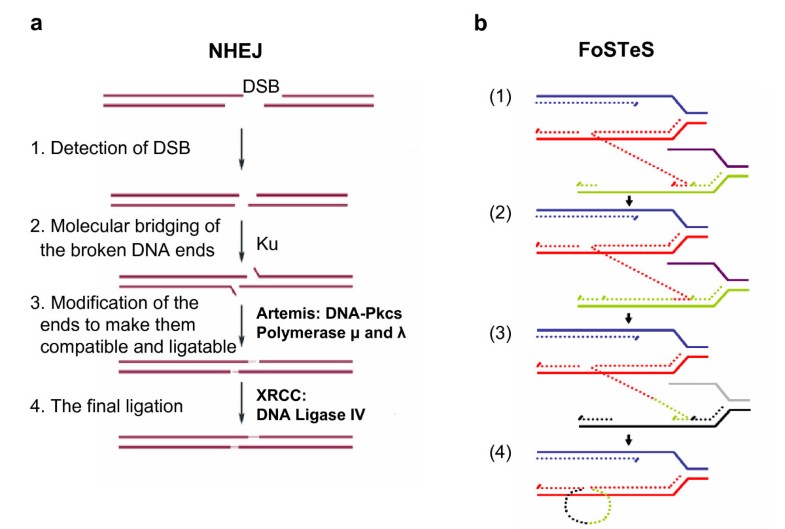 Nobile et al. and Toffolati et al. [72, 73] sequenced the breakpoints of 19 patients with muscular dystrophy due to non-recurrent deletions in introns 47 and 48 of the DMD gene. These deletions were not flanked by LCRs and the junctions showed microhomology (2 to 4 nucleotides) in seven cases, short insertions (1 to 5 nucleotides) in three cases and short duplications of surrounding fragments up to 25 bp in three cases. Other junctions either contained short sequences of unknown origin or did not show any microhomology, which might be due to the editing process in NHEJ. These events thus fit well with the features of the NHEJ mechanism. Remarkably,16 of the 38 (42%) breakpoints in these two publications fell within repetitive elements such as LTR, LINE, Alu, MIR and MER2 DNA elements; also, sequence motifs known to be capable of causing DSB or curving DNA, such as TTTAAA, are present in proximity to many of these junctions [72, 73].
Inoue et al. identified two apparently NHEJ-mediated deletions of the PLP1 (proteolipid protein) gene in Xq22 in patients with Pelizaeus-Merzbacher disease (PMD; MIM312080). Breakpoint analysis showed 12 base pair and 34 base pair sequences of unknown origin at the junction [74]. Interestingly, the distal breakpoints of both deletions were located in a 32 kb LCR termed LCR-PMDB [74]. Shaw and Lupski reported two non-recurrent SMS deletions apparently caused by NHEJ; the proximal breakpoints of both deletions are localized in an LCR (the proximal SMS-REP) [75]. One of them occurred within a MER5B transposon element in the SMS-REP, while the other was located in proximity to a MIR3 element and an L2 LINE sequence. The distal breakpoint of the latter deletion was localized between an LIMC4 LINE element and an AluSc element [75]. Many breakpoints of 17p translocations and other unusual-sized deletions also occurred within LCRs [76]. Consistent with the finding of repetitive and DNA breaking elements at the NHEJ breakpoints by Toffolatti et al. and Nobile et al., the locations of the PLP1 deletions and SMS deletions as well as the 17p translocation and deletion breakpoints map within the LCRs and are close to other repetitive DNA elements. These findings suggest that although NHEJ is not directly mediated by nor strictly dependent on certain genomic architectural elements in the way that NAHR is dependent on LCRs, it may still be stimulated and regulated by the genomic architecture [4, 76].
Combined with the DSB homologous repair (HR) as a two-step mechanism, NHEJ was also used to explain duplications [77, 78]. Woodward et al. and Lee et al. observed non-recurrent duplications in the PLP1 region in the majority of PMD patients; these duplications are non-recurrent although some of them do show breakpoint grouping (not clustering) at one end (Figure 1c) [77, 78]. Most of the duplications are tandem in orientation. Padiath et al. observed similar non-recurrent tandem duplications in the LMNB1 (coding for Lamin B1) region in subjects with autosomal dominant leukodystrophy [79]. The junctions sometimes show microhomology [77, 79], and sometimes have insertions of one to six nucleotides [77, 78]. Woodward et al. and Lee et al. proposed that in the first step of the rearrangement, a single DSB occurred in one strand; one of the broken ends then invaded and copied from the sister chromatid and caused the duplication. The ends were then rejoined via NHEJ [77, 78].
A DNA replication-based mechanism FoSTeS can account for complex genomic rearrangements
The study of rearrangement mechanisms obviously benefits from the development of new techniques to observe the rearrangements and breakpoints with a higher resolution. In the past, fluorescence in situ hybridization (FISH) has defined the duplications and deletions with resolution to about one BAC clone (150 to 200 kb) and accelerated the discovery of NAHR and NHEJ mechanisms. Recently, the advent of array-based CGH [reviewed in [80, 81]] has provided an unprecedented ability to observe the often complex details of genomic rearrangements, and has led to the proposal of the DNA replication-based FoSTeS model as the third major mechanism for human genomic rearrangements [82].
Lee et al. used a 44 K Agilent custom array to study the genomic region surrounding
PLP1
in PMD patients [
82
]. This array, with resolution of almost two interrogating oligonucleotides each kb, enabled the observation of non-recurrent rearrangements in PMD patients that were more complicated than simple duplication or deletion. The apparent duplications initially observed by FISH are often actually interrupted by triplicated or deleted fragments, or fragments with normal copy numbers. Subsequent mapping of breakpoints revealed further complexity of these rearrangements by showing that some of the fragments are inverted or translocated to another region. Microhomology of two to five nucleotides was found at each sequenced breakpoint junction [
82
]. One of the PMD cases resulting from FoSTeS-mediated complex rearrangement of the
PLP1
locus is shown in Figure
4
.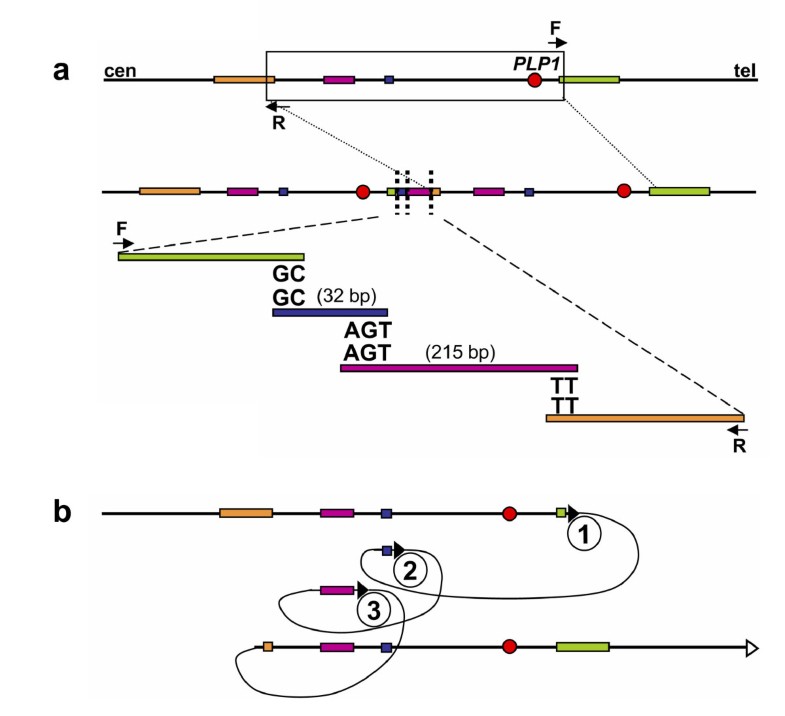 It is difficult to explain this complexity by either the NAHR or NHEJ recombination mechanisms. Inspired by the findings in
Escherichia coli
[
83
], Lee et al. proposed the replication
Fo
rk
S
talling and
Te
mplate
S
witching (FoSTeS) Model (Figure
3b
). According to this model, during DNA replication, the DNA replication fork stalls at one position, the lagging strand disengages from the original template, transfers and then anneals, by virtue of microhomology at the 3' end, to another replication fork in physical proximity (not necessarily adjacent in primary sequence), 'primes', and restarts the DNA synthesis [
82
]. The invasion and annealing depends on the microhomology between the invaded site and the original site. Upon annealing, the transferred strand primes its own template-driven extension at the transferred fork. This priming results in a 'join point' rather than a breakpoint, signified by a transition from one segment of the genome to another – the template-driven juxtaposition of genomic sequences. Switching to another fork located downstream (forward invasion) would result in a deletion, whereas switching to a fork located upstream (backward invasion) results in a duplication. Depending on whether the lagging or leading strand in the new fork was invaded and copied, and the direction of the fork progression, the erroneously incorporated fragment from the new replication fork would be in direct or inverted orientation to its original position. This procedure of disengaging, invading/annealing and synthesis/extension could occur multiple times in series (that is, FoSTeS × 2, FoSTeS × 3, and so on) (Figure
5
), likely reflecting the poor processivity of the involved DNA polymerase, and causing the observed complex rearrangements.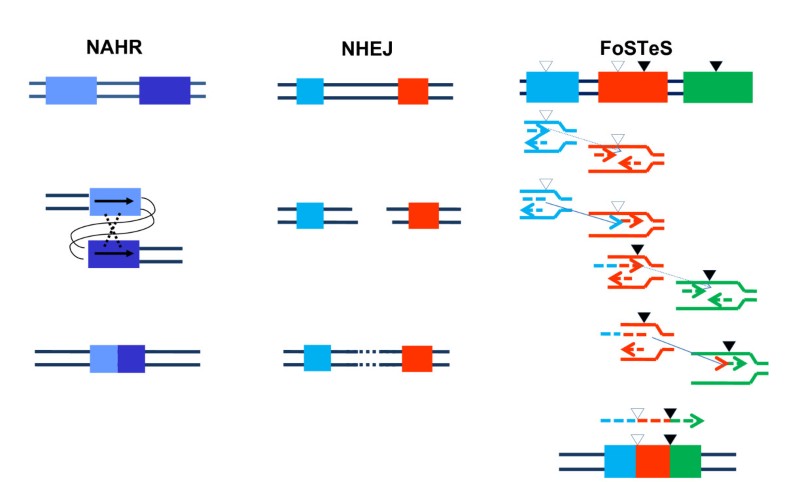 Array CGH data on several other genomic regions, including the SMS/PTLS locus [50, 84] (Lupski Lab, manuscript in preparation) and the MECP2 locus [85–88] have confirmed the complex nature of many other non-recurrent rearrangements, some of which were thought to be simple deletion or tandem duplication before the oligoarray technique was available. Likewise, the FoSTeS mechanism can potentially explain some of the complex rearrangements observed at the DMD locus [89]. The FoSTeS model is currently the only major rearrangement mechanism that could explain these complex rearrangements. Furthermore, some complex chromosome rearrangements (CCR) unveiled by recent cytogenetic data can also be explained by FoSTeS [84]. Intriguingly, some tandem duplications in the PLP1 and LMNB region [77, 79] which were previously explained by a model combining HR and NHEJ, especially those with microhomology at the junction [77, 79], can be more parsimoniously explained by the FoSTeS model including the strand switching template only once (FoSTeS × 1).
Interestingly, similar to the PLP1 region, the SMS/PTLS and MECP2 regions were also found to have very complex genomic architecture with multiple LCRs [1, 85, 86]. These LCRs, although they do not mediate FoSTeS directly, might be able to bring replication forks together to facilitate the replication fork switching event. Furthermore, highly enriched Alu repeats and high GC-content sequences were observed in proximity to the MECP2 complex recombination region [85]. So, like NAHR and NHEJ, FoSTeS is probably also influenced by the local genomic architecture. Unlike NAHR or NHEJ, FoSTeS rearrangement is currently based on the translocation of the end of a single nascent strand, so the genomic architectures facilitating FoSTeS may function via a mechanism that does not involve DSB intermediates. Nevertheless, a microhomology-mediated break-induced replication (MMBIR) model has also been proposed, in which the rearrangement is initiated by a single-end double-strand DNA break resulting from a collapsed replication fork (Hastings et al. personal communication). As more and more sophisticated array techniques are being used in more and more laboratories, we look forward to the discovery of more complex rearrangements and using them to further verify and modify the current FoSTeS model.
Some gross genomic rearrangements and small-scale gene mutations might share similar mechanisms
The most significant difference between FoSTeS and the other two rearrangement mechanisms (NAHR, NHEJ) is that it is a replication-based mechanism; the rearrangement is induced by errors in the replication procedure. It has been thought that small monogenic genetic mutations often reflect errors of DNA replication and/or repair [
4
], whereas genomic rearrangements are thought to be caused by other mechanisms induced by or associated with structural features (genomic architecture) of the local genomic region [
1
]. The FoSTeS mechanism suggests that large genomic rearrangement involving thousands or even millions of DNA base pairs can be due to replication errors as well, perhaps also stimulated by local genome architecture such as cruciforms (Figure
6
).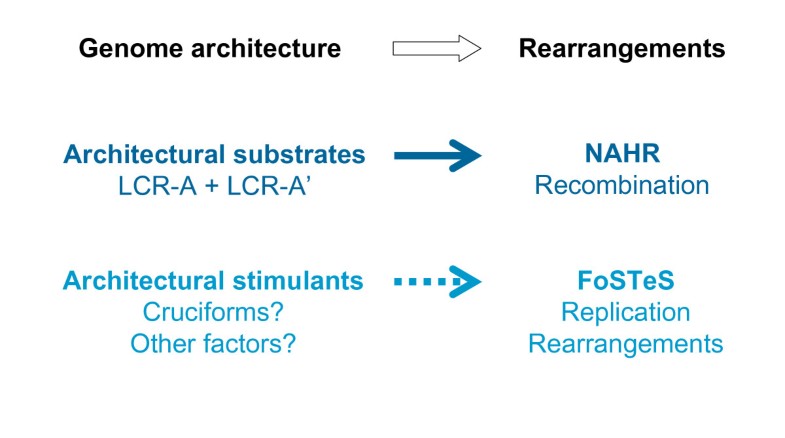 Chen and colleagues [90–93] studied the breakpoints of 'smaller' DNA rearrangements (between 21 bp and up to 10 kb) including duplications, deletions, insertions, and inversions collected in the Human Gene Mutation Database (HGMD) [94]. They found that many of them have a complex nature (similar to the complex nature of the 'large' rearrangements now being observed using array CGH), instead of being simple duplications and deletions. They proposed the serial replication slippage (SRS) model to explain these complex gene mutations. The SRS model is an extension of the classical replication slippage model [95]; it assumes that the 3' end of the nascent strand could dissociate from the original template and invade other templates on the basis of microhomology. Depending on whether the strand slippage occurs forwards or backwards, the nascent strand will have a deletion or duplication. Making use of reversed repeats, the nascent strand can also invade in the reverse orientation and thus incorporate an inverted segment. The slippage can happen serially, creating the complex rearrangements Chen et al. observed of small sizes between 21 bp and several kb.
The SRS model proposed for small gene mutations shares some general features with the FoSTeS model proposed for the larger rearrangements. Both models assume serial replication slippage, and both stress the importance of the genomic architectural elements such as palindromic DNA, stem-loop structures, repeats and so on, which may facilitate the initial stalling of the replication fork. While the SRS model assumes that replication slippage occurs on closely adjacent sites (possibly inside the same replication fork) and causes DNA rearrangements of small sizes, the FoSTeS model emphasizes that the template switch can occur over long distances (120 kb to 550 kb observed to date) to another replication fork (given the spatial closeness of the two forks) and cause DNA rearrangements on a much larger scale. Furthermore, FoSTeS × 1 could explain deletion and duplication events previously proposed to occur via NHEJ, in a way similar to the explanation of small deletions and duplication using the SRS model; the observed microhomology at the join point reflecting the priming event rather than a recombination/repair process. It is interesting to realize that although we have been talking about monogenic (often small) and genomic (often large) rearrangements in different contexts, some of them apparently have similar complexity and might be caused by very similar mechanisms.
Conclusion
NAHR was the first major DNA rearrangement mechanism identified to cause genomic disorders. NAHR occurs during both meiosis and mitosis and it requires two LCRs with sufficient length of high homology to act as recombination substrates (Figures 2 and 6). Based upon the principles or 'rules' elucidated by studies of this mechanism, new genomic disorders have been successfully predicted and uncovered. Although this LCR-based prominent theme of NAHR remains the same, recent research has shown that some details of NAHR mechanism, such as the frequency of the recombination and the length requirement of homology between the LCRs, can differ between males and females and between meiosis and mitosis.
NHEJ and FoSTeS were later employed to explain other genomic rearrangements. Both models are still awaiting more data for further elucidation and modification. FoSTeS is a unique mechanism compared with NAHR and NHEJ, especially in that it is a replication-based rearrangement pathway and does not necessarily rely on the pre-formation of DSB. Although still very limited, our preliminary data imply that FoSTeS might be a major mechanism for duplication CNV and thus a major driver of the Ohno 'gene duplication/divergence' evolutionary hypothesis [96]. Indeed, FoSTeS might also have been the driving force in the origin of the LCRs in the human genome. It is well known that DNA polymerases have an intrinsic error rate leading to base substitution, a fact which is central to genome stability, disease origins and evolution of species. It is tempting to speculate that there may be an endogenous polymerase error rate for FoSTeS as well, analogous to the base substitution error rate. A related question would be whether or not disorders that are frequently sporadic and occur via FoSTeS are associated with advanced paternal age, as are point mutations that are due to DNA replication errors [19]. It has been proposed that carriers of hereditary non-polyposis colon cancer (HNPCC, MIM120435) with mutations in genes involved in the DNA mismatch repair pathway may be more susceptible to somatic genome rearrangements caused by NAHR events [97]. One could also hypothesize that some other individuals could be more prone to genomic rearrangements mediated by FoSTeS because of mutations/functional polymorphisms in the DNA replication machinery.
It has been clearly shown that both NHEJ and FoSTeS can be indeed stimulated by local genomic architecture, but no direct association of specific DNA elements with either model (such as LCRs associated with NAHR) has been experimentally identified. It is an interesting question to which degree NHEJ and FoSTeS are structurally determined or enhanced by specific genome architecture and whether some day we may be able to predict regions of human genome instability caused by NHEJ and FoSTeS events, as we have predicted NAHR events and the related genomic disorders. Currently limited data suggest that a palindrome or cruciform may stimulate FoSTeS (Figure 6).
There are still many unsolved, exciting questions regarding the mechanisms of human genomic rearrangements in general. Evidence is emerging that genomic rearrangements, despite their likely common basic mechanisms, might be differently regulated between germ line and somatic cells, between embryogenesis and adulthood, and between cancer cells, stem cells, and differentiated cells [98, 99]. It is well known that other genome activities (such as transcription) can be fundamentally different in different cellular settings. It is thus tempting to relate the differences in genomic arrangements within these developmental contexts and cellular environments to the differences of other genome-involving processes, and to ask the question of whether there is an interaction or some kind of crosstalk between genomic rearrangement and other cellular processes. We know that NHEJ rearrangements are physiologically relevant in generating antibody diversity [66]; are there other 'programmed' rearrangements including inversions [27] which are employed in the development or regulation of other biological events? Finally, are there other mechanisms for genomic rearrangements in addition to the three discussed in this review?
For the latter question, some data are starting to emerge from two genome-wide structural variation studies. Korbel et al. [100] and Kidd et al. [101] used the paired-end-mapping (PEM) [100] and the fosmid-based end-sequencing-pair (ESP) [101] methods respectively, to systematically identify structural variants (SVs) in human genomes. Korbel et al. identified 1297 SVs including 853 deletions, 322 insertions and 122 inversions, and sequenced the breakpoints of 188 SV indels and 14 inversions. It is very interesting that almost all of the SVs bear signatures of either NAHR (surrounded by LCRs or repetitive sequences such as SINEs, LINEs), NHEJ or FoSTeS (microhomology at the junction), or retrotranspositions (mostly L1 elements). (Retrotransposition causes rearrangements in the genome via RNA-mediated mechanisms and is not the subject of this review.) Very few SVs do not fall into any of the three categories (Korbel, personal communications). Kidd et al. inferred mechanisms from breakpoints analysis for 227 SV indels and 34 inversions, and similarly identified evidence for NAHR, NHEJ or FoSTeS mechanisms. There are differences between the results of the two papers. The calculated ratio of NAHR-mediated events in SV indels, for example, is 14% according to Korbel et al., but much higher (39%) in Kidd et al. These differences may be due to the differences in their methodology or design; that of Kidd et al. is likely more efficient in detecting larger variations. Nevertheless, it seems that the three major rearrangement mechanisms – NAHR, NHEJ and FoSTeS – can explain the majority of the DNA rearrangements occurring in our genomes.
It is also of interest that the sequence analysis of both studies indicated that a portion of NAHR events utilize repetitive elements (SINEs, LINEs, LTRs), rather than LCRs as homology substrates. This finding is consistent with our previous data [75] showing that some non-recurrent deletions of SMS patients can be mediated by NAHR between Alu sequences. These Alus are from the evolutionarily youngest subfamilies AluS and AluY, and share a high degree of homology with each other. This homology apparently fulfills the conditions for MEPS and is enough to enable occasional non-allelic homology mediated recombination between two Alu sequences. However, the length of homology between two Alu sequences is much shorter than that between two usual LCRs, which may explain the lower frequency of the Alu-mediated recombination events than the LCR-mediated NAHRs.
Both PEM and ESP are based on the sequencing of small fragments (~3 kb for PEM and up to 40 kb for ESP) of the individual genomes and then comparing the distance between both ends of the fragments with the value of the reference genome. It should be noted that large duplications that can not be spanned by these small fragments might be underrepresented in the SVs identified by PEM and ESP because of the design of the methodology. Furthermore, these approaches: (i) may not readily detect complex genomic rearrangements, and (ii) the computational "filtering" accompanying the match of shotgun and short sequence reads to the reference genome may result in lack of identification of breakpoint sequences. On the other hand, this strategy is very powerful in identifying DNA sequence read information at the breakpoints of the deletion and inversion SVs. Future developments of even more sophisticated and sensitive genome-wide assay technologies will provide a more extensive overview of the structural variants in our genome and greatly facilitate the research on the mechanisms for CNV and other genomic rearrangements.
Declarations
Acknowledgements
The authors would like to thank our colleagues Drs. Pawel Stankiewicz, Jan Korbel, Jonathan Berg and Bernice Morrow for their critical reading and intellectual input. WG is a Feodor-Lynen Research Fellow generously supported by the Alexander-von-Humboldt Stiftung. Work in the Lupski laboratory has been sponsored by the National Institutes of Health, the March of Dimes and the Charcot-Marie-Tooth Association.
Authors' Affiliations
(1)
Department of Molecular and Human Genetics, Baylor College of Medicine, Houston, USA
(2)
Department of Pediatrics, Baylor College of Medicine, Houston, USA
(3)
Texas Children's Hospital, Houston, USA
(4)
Institute of Human Genetics, Ludwig-Maximilians-University, School of Medicine, Munich, Germany
Copyright
© Gu et al; licensee BioMed Central Ltd. 2008
This article is published under license to BioMed Central Ltd. This is an Open Access article distributed under the terms of the Creative Commons Attribution License (http://creativecommons.org/licenses/by/2.0), which permits unrestricted use, distribution, and reproduction in any medium, provided the original work is properly cited.